13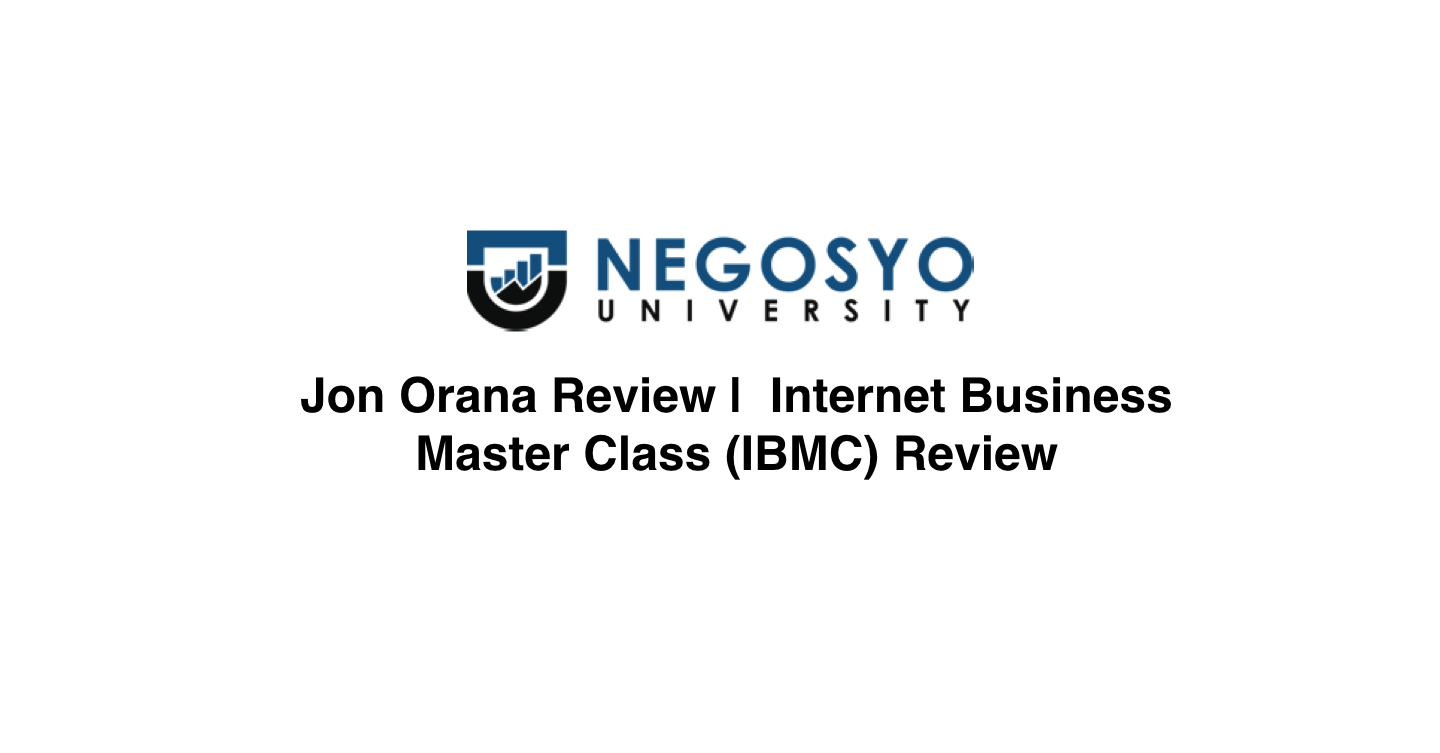 Jon Orana Review | IBMC Review (Bonuses Inside)
Do Not Join Without Reading This IBMC Review First!
The main reason you are reading this Jon Orana Review or IBMC Review is to see if other people have invested in Jon Orana's Coaching programs and to check if he is legitimate. You are on the right track!
Before you place your time and money in any program online or from someone you don't know, make sure you do your research, find out everything you can about the program or the person involved in the program before you invest in it.
By the way, if you haven't downloaded his FREE Guide, Click The Button Below.
More...
In 2008, selling digital products caught his attention. He wanted to sell eBooks online, but he didn't know how to write eBooks. So he searched online and found that there were no collection of Bible Verses according to categories or topic.
In 2006, one of his friends introduced to him the concept of internet businesses. He tried Google Adsense and he received his first check from Google.
He opened traditional businesses such as retail stores, grocery store, pharmacy, restaurant (Tapsihan), and network marketing or MLM. Unfortunately, all of those businesses failed. He lost millions and he was in very big DEBT. At one point in his life, he was paying bills using his CREDIT CARD.
Jon Orana is a Filipino based in Canada. He used to work in the corporate world before he stumbled upon an Entrepreneurship Book. He eventually realized he was getting tired of his JOB. Everyday he was hoping it was a holiday or it was a long weekend. He wanted to start a business, but the problem was, he didn't know HOW.
He created his first eBook by copying King James version of the Bible, which did not have any copyright. He arranged different Bible Verses in 200 categories or topics: Money Management, Running a Business etc.
He launched the eBook and he was surprised that someone bought his eBook for $17! He made around $200 that one morning of August.
That's when he started creating other digital products and launched his coaching business in 2012 / 2013. He started his blog called "Eskapology.com." For 12 months, he wrote blogs and recorded audio blogs about personal development. His followers asked him which business has freed him from his JOB. He did a survey on his followers and asked if there's anyone who would be interested to know how to start an online business. The responses were overwhelming. That's when he launched his coaching program "Blog Academy" and "Money Tree System"
To this day, Jon Orana has sold over $1 million worth of digital products online and he is willing to share how he did it in his Coaching Program called "Internet Business Master Class"
He has now been invited for interviews on National TV to give tips on how to start a business from home using just the computer and internet.
He is also conducts seminars one or twice a year in the Philippines to help other Filipinos start their own business selling digital products. Fortunately, I was invited to speak at his seminar and share my secrets on Facebook Marketing.
What Is Internet Business Master Class or IBMC?
IBMC is an 8-week (live webinar) mentoring program that teaches Filipinos how to create, sell, and profit from eBooks and other Digital Products regardless if you know how to write or not.
Week #1: Market Radar Method: How To Know What Topic That Will Sell
Week #2: Rapid Product Creation: How To Quickly Create An e-Book That Readers Love
Week #3: Outsourcing Mastery: How To Hire A Freelancer That Will Do All The Work For You
Week #4: Simple Selling System: How To Sell e-Books or Anything Online
Week #5: Free Traffic Secrets: How To Drive Traffic (People) To Your e-Book Website
Week #6: Trust-Based Marketing: How To Turn Website Visitors Into Loyal Customers
Week #7: Proven Advertising Methods: Smarter Way To Advertise Your e-Book
Week #8: Business Growth System: How To Grow Your Information Publishing Business Fast
***All the Live Webinars are recorded and can be downloaded a few days later for those who could not attend.
How Much Does It Cost?
As of the writing of this review, the cost to enroll in IBMC is ₱24,000. When I enrolled in it a year ago, it was only around ₱20,000. So the price has a tendency to increase. If you are thinking of enrolling in it, don't wait around any longer since the price keeps going up. (See My Bonuses Below The Blog Post To See How You Can Get More!)
If for some reason the price of enrollment to IBMC is too expensive for you, you might want an alternative way to learning how to make money online, click here.
Do You Have To Spend On Something Else After You Enroll?
Unfortunately, YES.
1. If you are not a writer or you have no experience writing an e-Book, you will have to hire a freelance writer to write your e-Book. This will cost you at least P5,000 depending on the quality and length of your e-Book. (See My Bonuses Below & Learn How You Can Create Your Own eBook Without Hiring A Freelance Writer & Save A Ton Of Money!)
2. You NEED to have your own website where you can sell your e-Books. This typically costs you ₱1,000 per month. If you do not know how to create, build or design your website, you will need to hire a freelance web designer / developer. That would cost you at least ₱20,000++. However, Coach Jon now provides templates for you so you can build a decent website on your own. (See My Bonuses Below & Learn How You Can Have Your Own Website Template Fully Installed For You & Save A Ton Of Money!)
Has Anyone Earned In Jon Orana's IBMC?
Yes, hundreds of people have already started earning online based from what they have learned from Jon Orana. (You can see more testimonials here)
Personally, I have made ₱454,478.00 in the Past 90 Days from Online Transactions alone using what I have learned from IBMC.
You can watch my video testimonial for IBMC below.
Here are other some other people's testimonials about Internet Business Master Class (IBMC).
Here is Francis Clavano, the founder of the Online Grocery Store concept, Clavmall.com, posted how he was able to earn ₱108K in 1 night!
Here's one IBMC Student who is already on her 8th book! She has just scheduled an interview with an American author from Ohio.
Is There A Support Group You Can Join After The 8-Week Webinar Ends?
Yes, you will be invited to join the IBMC Secret Support Group where you can ask questions and get advice, motivations, tips and strategies from others (including me).
Here are some examples of people asking for help inside the support group.
Would I Recommend Joining IBMC?
Definitely YES! If you have ₱24,000 to spend, GO FOR IT! I suggest you enroll right away (See My Bonuses Below). If you are on a tight budget, I suggest you take my Digital Start-Up Toolkit as an alternative.
If You Enroll By Clicking On The Button Below, I'm Giving YOU My Personal BONUSES!
Get a FREE Copy of my Digital Business Playbook (₱1,499 Value).
Get my 6 Quick Start Videos (₱1,299 Value).
Get my DBP Resource Cheat Sheet (₱149 Value).




Get 6 Months FREE Access to My

Digital Start-Up Toolkit

(₱13,997 per year value.
Learn How To Format And Get Content For Your e-Book So You Won't Have To Hire A Freelance Writer.
Learn STEP-By-STEP (Downloadable Video Tutorials) How To Create, Build And Design Your Website Like A Pro To Sell Your e-Books So You Won't Have To Hire A Freelance Web Designer.
Learn How To Sell Not Just Your Own Digital Products, But Other People's Products As Well And Earn Commissions And More!
Get Access To My Facebook Marketing Training Modules To Learn How I Sell My Own e-Books In A Span Of 3 Days or Sell Any Product On Facebook!
I will also coach you and answer your questions online for 3 months (₱19,997 Value)
How Do You Get Your Bonuses When You Enroll in IBMC?
Since you will be receiving very expensive bonuses, there are several steps I need you to take before you get your bonuses.
Step 1: Before you click the button below, make sure you CLEAR your browser's history & cookies (CTRL-SHIFT-DELETE on Windows) or use a different browser to make sure that you are buying from this button ONLY and to ensure you'll get my bonuses.
Step 2: Click The Button Below And Make Your Payment In IBMC's Website. (If you are paying via BDO, make sure that you write YOUR Name AND "Referred By Lloyd Labso" on your Transaction Slip or Deposit Slip to specify that I referred you.
Step 3: Take a photo of the transaction or deposit slip and email that to negosyouniversity@gmail.com AND support@lloydlabso.com.
Step 4: After the 8-week training webinars, I will verify if you've done the process correctly. You will be given a link to register and you will be given instructions on how to access your exclusive bonuses.
Bonuses Are Disabled Until January
If for some reason the price of enrollment to IBMC is too expensive for you, you might want an alternative way to learning how to make money online, click here.